A CUT ABOVE
The Zultanite® name is your guarantee that each gem is cut by some of the worlds most experienced lapidaries to optimal proportions.
Zultanite® tests the skills of even the most experienced lapidaries due to its very low yield (2 percent), tendency to cleave, or split apart, in a single direction (much like a Diamond) and its trickier-than-usual crystal orientation. Most Zultanite® rough yields the popular jewelry sizes of one to three carat gemstones. Sizes exceeding 5 carats are exceptionally rare. A wide variety of classic and specialty cuts are available.
Some Zultanite® even displays the coveted cat's eye effect. The cats eye effect, also known as chatoyancy, appears as a single bright reflective line of light, similar to a cat's eye. This optical effect is created by the reflection of light from long needle-shaped inclusions occurring in a parallel arrangement. Similar to star gems, the cat's eye effect is dependent on a gem being cut 'en cabochon' and is most visible in a direct, single beam of light. Sporting a phenomenal dual effect (color change + chatoyancy), these Zultanite® varieties are exceedingly rare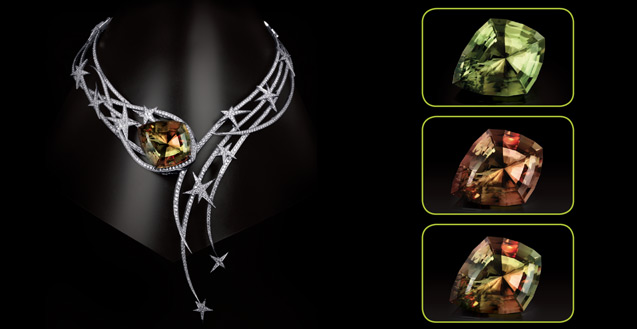 Weighing 96.20 carats, the 'Sultan's Shield' is the world's largest Zultanite® and was set in a necklace by Stephen Webster. It was faceted by the supreme master cutter, Stephen Kotlowski BS, GG (GIA), CSM of Newburgh, New York. The original raw crystal weighed 72.53 grams and Mr. Kotlowski labored around 30 hours to complete this magnificent gem. Mr. Kotlowski also cut a 26.04 carat Zultanite® that won the AGTA 1995 Cutting Edge Awards. Aptly named 'Uniquely-K Apex', this apex fan-shaped gemstone began Zultanite®'s journey in the gem world and was the first Richard T. Liddicoat, the GIA's legendary gemologist, had ever seen. The world's second largest Zultanite® weighs 80.30 carats and was also faceted by Mr. Kotlowski, placing third in the AGTA 2009 Cutting Edge Awards. The original raw crystal weighed just over 260 grams and took 20 hours to complete.
Watch CUTTING A ZULTANITE® WOBITO SNOWFLAKE® and see Rudi Wobito, a third generation Master Gem Cutter with over six years experience cutting Zultanite®, transform raw Zultanite® crystals into two stunning Wobito Snowflakes. Rudi and his bother Ralph learned the art of lapidary as long term apprentices of their father and have over 50 years combined experience. Their grandfather and father were Master Gem Cutters who operated a gem cutting business in the renowned German cutting center of Idar-Oberstein. Now based in the community of Stouffville, Ontario, just north of Toronto, the Wobito lapidary studio continues the tradition of producing master crafted gemstones with the tell-tale precision of its Idar-Oberstein roots. The Wobito Snowflake® was created by Ralph Wobito and patented in 2004.